Friends, it's time for a fresh update.
First of all, I want to thank you all for providing a record-breaking (I'm being serious) number of comments on that last blog. Africadabra has never seen anything like it. I feel honored and revitalized! This blog is going to be especially long and enjoyable, featuring lots and lots of pictures as a gift to you guys. Let's try to crack 19 comments and go for 20! I know we can do it.
I think I left us off in Detroit where we spent some time at Orley's manor. If I said Indianapolis, I meant Detroit, because NEXT up was Indianapolis. I have to say Indianapolis, you were quite humid. Miserably humid, in fact. I mean, humidity is humidity, and being from the west coast, it is difficult to appreciate this weird water-air stuff. However, also being cigar smokers, we found a new appreciation for the humidity, as it greatly aids in keeping the cigars from drying out. So, thanks for that.
When we arrived at the venue, it turned out there was going to be somewhat of a delay, so Darren decided to take a peek (not a pee, sorry) off a nearby bridge. Here's what it looked like: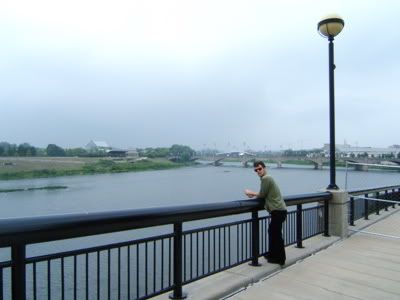 While Darren was checking out the scene, Blake was checking out of reality (this will never get old).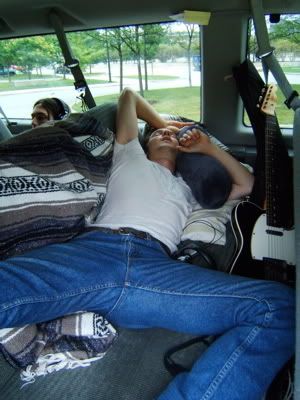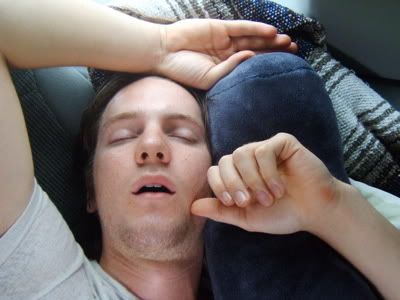 After waiting around a while, we decided to go into town, which, once we got there, we realized was only really comprised of a few tall buildings and a large mall. It was around here that we not only found our cigars, but a few new pairs of shoes for the guys as well. Here's Wylie with his new boat shoes that he's really stoked on. If you ask me, they'll be the new trend in no time.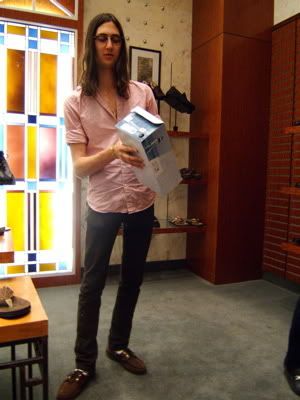 Here's a view of one of the streets from a large window in the mall:
We noticed a few funny things while walking around downtown. First, they had these really weird "walk" signs. They weren't inanimate hands or white cut-outs of people in walking position, but rather, they were full-size, animate digi-people walking in place. It's hard to describe, but here's what it looked like:
Imagine that thing in motion.
Also, they had horse carriages!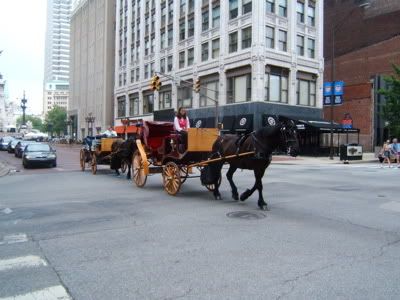 ...And homeless guitar players...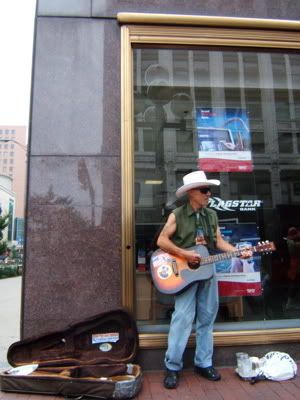 So, like I said, after getting our cigars, we got back in the van. But, upon entering, Darren hit his knee on something and flipped out. Quite literally, in fact.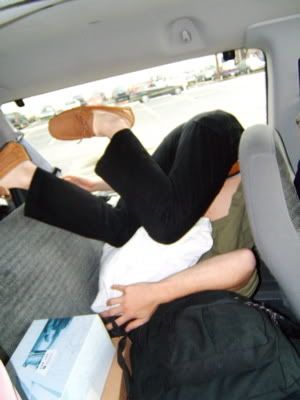 Poor guy.
So, once we got back to the venue, I managed to get a few funny pictures of Darren and Wylie. Just enjoy, I guess: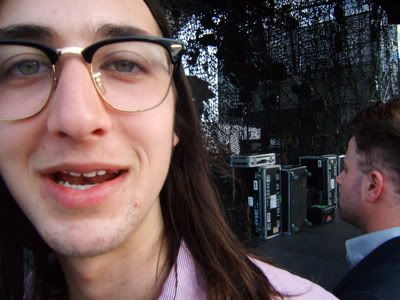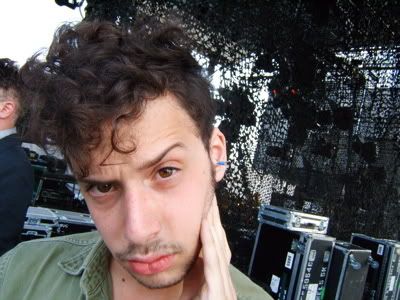 Then, they started playing, and here are some pictures from there. It was really weird, almost the entire middle section was empty until much later on in the night. But as you can tell, the general admission areas were quite full. Also, check out the skyline in the background. Pretty cool, eh?
For anyone who didn't know how hard Darren rocks: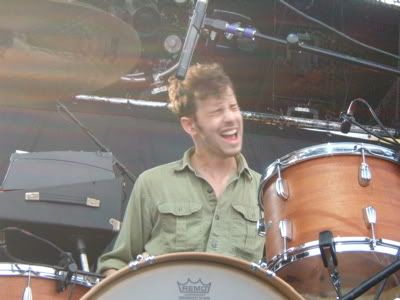 A Blake Mills solo. Like his funny sleepy-faces, these never get old:
And I just needed a picture of Wylie playing: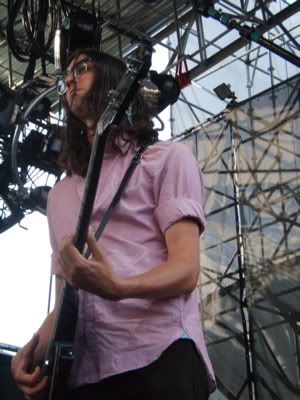 SO THAT'S IT! Thanks for reading and... No, HELL no! There's much, much more. From here, we went to Ohio. My camera was dead at the time, so I don't have any pictures, but it's okay, because I got some batteries in time to document all the fun that happened after our first Ohio show.
The reason the next bit of time was so much fun was because we (Simon Dawes, Incubus, and Production) all went on a big camping/rafting trip. After the Ohio show, we all busted out to Wal-Mart to get some goodies for the following day. Some people bought wiffle balls and bats, some got soccerballs, some got fold-up chairs, and some bought air-soft pellet guns with which they could shoot each other. Invading the Wal-Mart at 2:30 in the morning was quite funny. This superstore was located somewhere in the boondocks, so of course the few customers and employees inside were quite shocked to find a fleet of super-energized/excited weirdos raiding the store. And it was quite a raiding - no lie. Here are some pictures to prove it:
Wylie and Darren entering the store: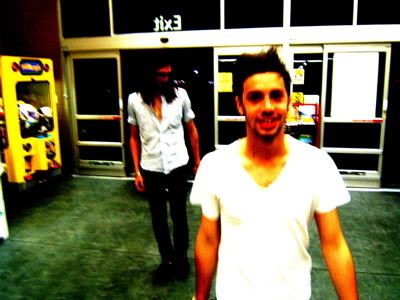 Then Taylor: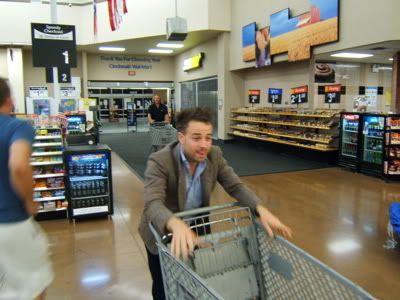 Now we can get into some new introductions...
Ladies and dudes, meet Tim, sound tech: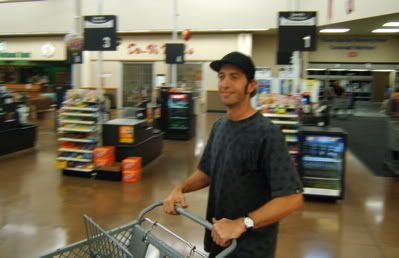 Trew homie.
Another bromie, Michael the monitor man. 10-4 good buddy.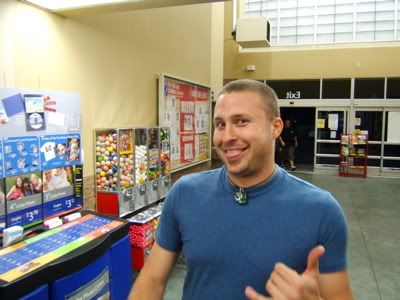 Here's Greg and Shawn. Greg works front of house, and Shawn is Jose from Incubus' drum tech.
Oh yea, you guys have to meet Dale. He's a bus driver for one of the production crews. This is one funny man. It's great playing dice with him because I think he has a difficult time adding up the numbers. He also has a tattoo on the inside of his arm of a skull holding a smoking gun with "Death" written in the smoke.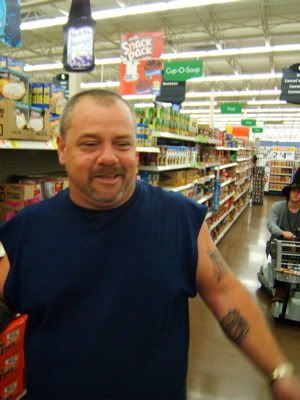 I told him I wanted to take his picture for our blog and he said "Oh, he already has my number." Somebody tell me what that means?
Then, of course, you have to meet Old Man McGee. He did not get out of this thing the entire time we were in there. He even had people get things down from the shelves for him.
In addition to many other things purchased, everybody was looking for the perfect boating hat. Whose was best? You decide.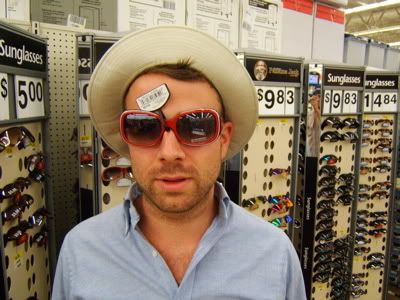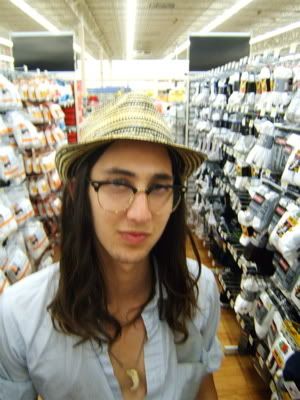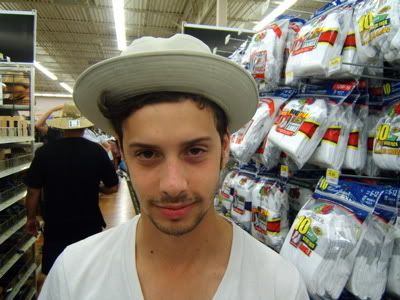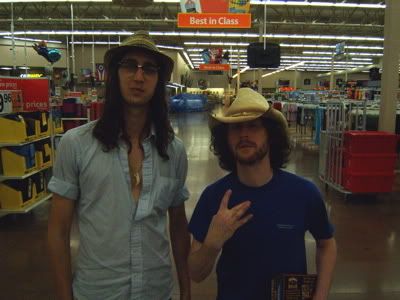 This is Warndahl, if you don't remember: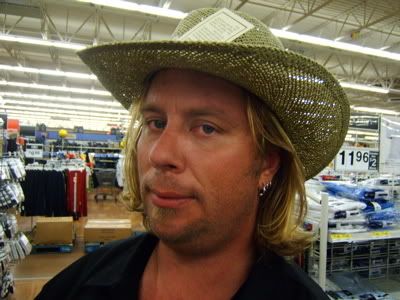 We were really surprised to find Lil' Jon in the building. YeeeAAAAaaawww!!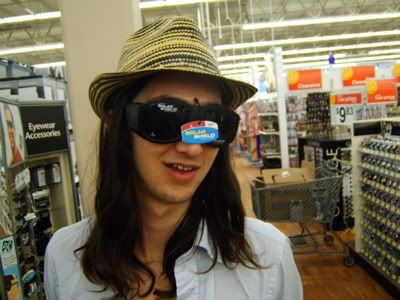 Here's me Wylie and Darren: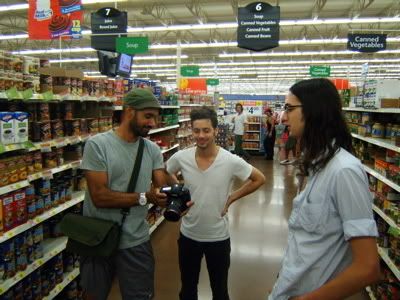 No, I'm kidding. That's Ben, the bass player from Incubus. Great dude.
While everybody else was off finding things they wanted to bring camping, Taylor became well attached to a certain, pretty bike.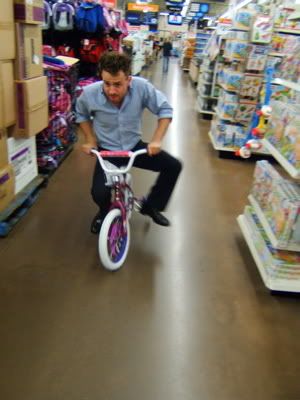 He learned to ride in that damned Wal-Mart.
That concludes the Wal-Mart excursion. Afterward, we continued on to the campsite and hit the hay at about 5:00 in the morning. Here are some photos of and around our cabin that I got the next morning.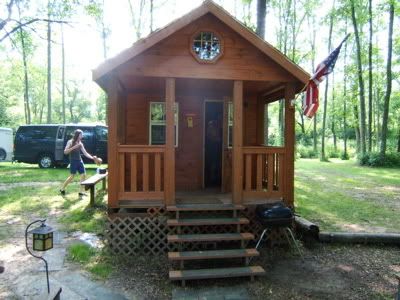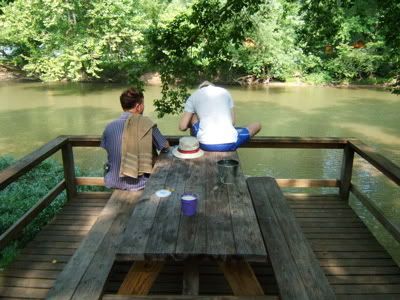 This is how we roll!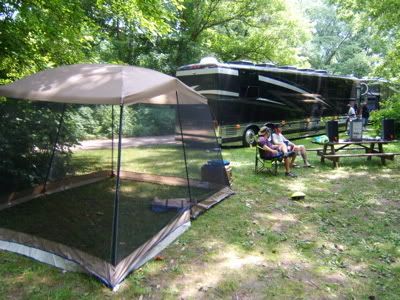 Some of the dudes decided to make their way across the river that morning. It was a bit early for my taste.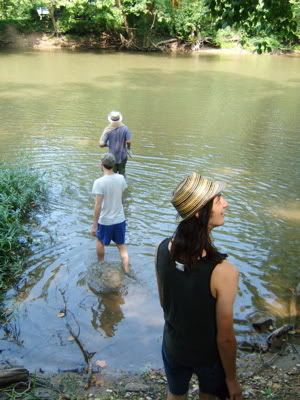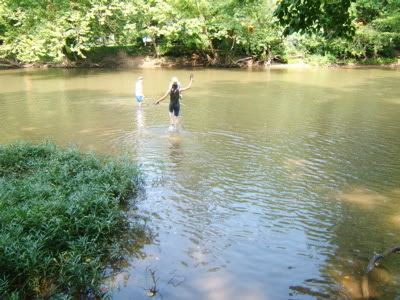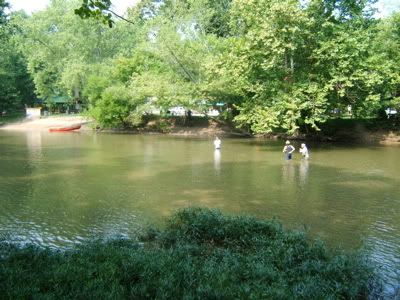 Now on to some of the day's festivities. But first, here's Sherra. She's Incubus' super-cool private chef on this tour. She was kind enough to bring out all of her supplies and food and whatnot to serve us all. You're the best Sher!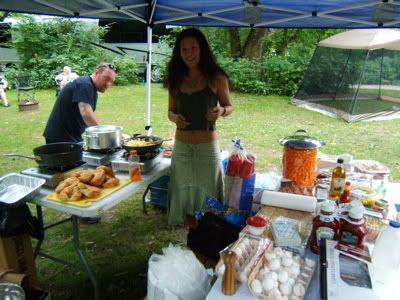 Some of the foods: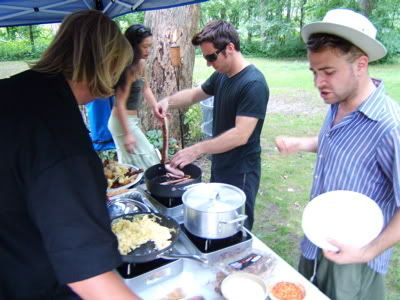 This was a game that took up a lot of our time that day. It's called "cornhole." Don't ask me why. Figure out your own technique - it's harder than it looks!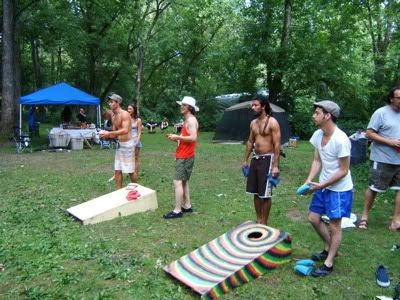 This is the hole into which you have to throw your beanbag from about 30 feet away.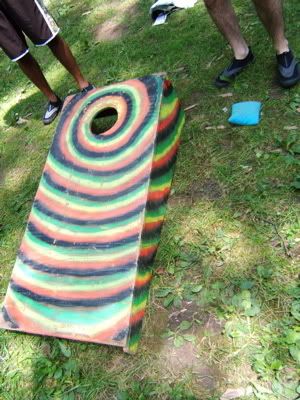 Later, here were Ben and Kil loading up their shotguns. These things were way more powerful and accurate than the automatic ones the rest of the campers got.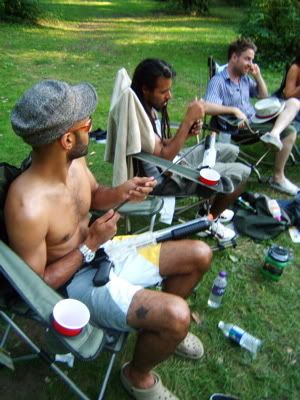 This was the result: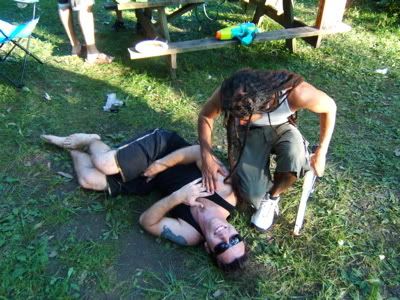 Kilmore ended up shooting young Greg (there's a young and an old Greg) in the testicle from about 20 feet. It looked and sounded incredibly painful. If you're wondering, Greg's made a full recovery.
This is the point at which I apologize for not having any more camping/rafting photos, but things just got a little too hectic. I hope that you've gotten a good sense of what it was like out there. Oh yea, and we took a full-moon, midnight raft ride down an almost stagnant river. For me, it was almost a spirit quest.
I hope you're all doing fantastically. It's time for me to go to bed. You know what to do.
Serenity,
Matt